As Kenny was eating this, he told me that this is definitely one of his favorite meals that I've ever made. Whoa, victory. It apparently doesn't take a lot of effort to make my husband happy when it comes to food. These easy turkey meatballs are made with quinoa (helloooo, extra protein!) and come together in a snap.
Did I just say "in a snap"? Please still be my friend.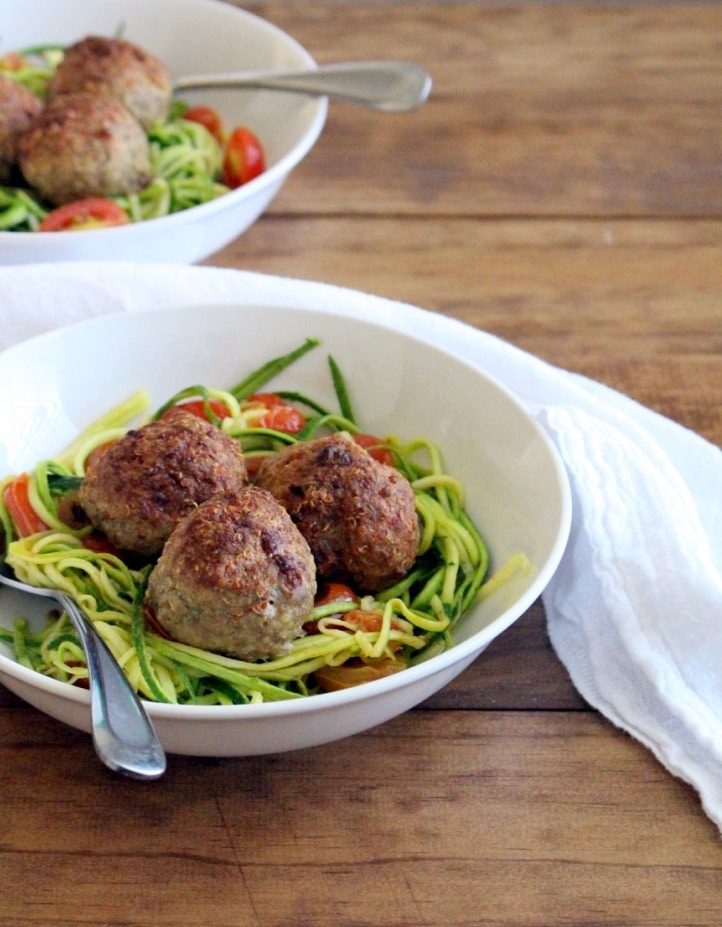 Only a few simple ingredients, and not much actual work time, and you have yourself super healthy, flavor-packed, comforting meatballs that are delicious when served on just about anything. We served ours on top of zucchini noodles sauteed with cherry tomatoes, and then topped it all with a little goat cheese. OH. MY. YES.
This dish is perfect for everything from a quick weeknight meal to a fancy dinner party. As always, if you guys make these, take a pretty picture and tag me on Instagram! Hashtag #thewheatlesskitchen !!
Ingredients
2 lbs lean ground turkey
1/2 cup uncooked quinoa
1 cup chicken or turkey broth (or water if not using broth)
2 garlic cloves, chopped
1 tsp chili powder
1 tsp cumin
pinch of salt and pepper
Instructions
Preheat the oven to 350 degrees.
Combine the quinoa and broth in a saucepan, season with a small pinch of pepper, cover and bring to a boil. Once boiling, reduce the heat to low and let it simmer for 15 minutes, until all of the liquid is absorbed. Remove from heat and let cool.
In a large bowl, combine the ground turkey, quinoa, garlic cloves, chili powder, cumin, salt and pepper. Use your hands or a wooden spoon to mix until evenly combined.
Use your hands to grab about 2 tbsp of the mixture and roll it into a ball in the palm of your hands.
Set the meatball on a lined baking sheet and repeat with the rest of the turkey mixture. Set the balls about an inch apart on the baking sheet.
Bake for 45 minutes, until outside is brown and slightly crispy and they are cooked in the middle.
Serve over zucchini noodles, pasta or rice!
https://www.thewheatlesskitchen.com/turkey-quinoa-meatballs/