Chai Spiced Almond Shortbread Cookies
These grain-free Chai Spiced Almond Shortbread Cookies are crunchy on the outside, soft on the inside, and packed with chai spices!
Chai Spiced Almond Shortbread Cookies
We all need that go-to cookie recipe that we can take to our holiday parties, right? The one that is easy, quick, delicious, and everyone will love.
Well, I've got you covered with this one. I revamped one of my old shortbread cookie recipes and added some chai spices to give it a little something extra. These cookies are perfect for all of those Christmas parties that you are invited to.
The recipe is simple, only requires a few ingredients, and is always a hit. I always feel a little nostalgic when I eat these because it reminds me of the good ol' days when I would devour the shortbread Girl Scout cookies.
You can leave out the chai spices if you want to have a simple vanilla shortbread.
But I'm telling you, the chai spices take it over the top.
And can we just talk about this embossed rolling pin?! I have never had a fancy rolling pin like this before, and I LOVE it. It makes the cookies look so festive and fun (and it makes you look like a baking queen), but without any actual work attached.
You just roll the pin right over the dough, and VOILA. You have yourself a gorgeous design on your cookies! I can't wait until Sloane is old enough to help me make cookies with this, she is going to love it too.
This embossed rolling pin is made of 100% solid beech wood, and is completely food safe. Embossed Co. has lots of different designs, but of course I went with the leaves. I can't wait to make some more fancy cookies with it!
*Embossed Co. was so generous to send me a rolling pin, but I was not compensated for this post, all opinions are my own.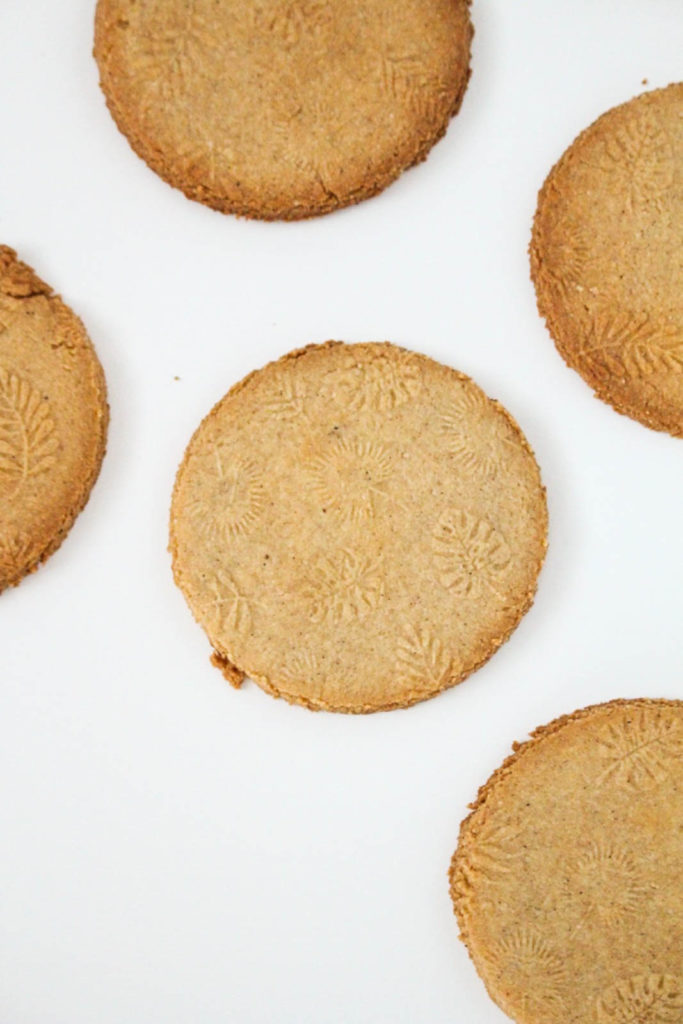 Looking for more holiday cookie recipes?
FOLLOW ALONG! Subscribe to my newsletter and follow along on Facebook, Instagram, and Pinterest for my latest recipes!
Chai Spiced Almond Shortbread Cookies
Ingredients
2.5

cups

almond flour

1/4

cup

melted butter

(I used Earth Balance vegan butter)

1/4

cup

maple syrup

1.5

tsp

vanilla extract

1/4

tsp

salt

3/4

tsp

cinnamon

1/2

tsp

ginger

1/4

tsp

cardamom

1/4

tsp

cloves
Instructions
In a large mixing bowl, whisk together the almond flour, salt, and all of the spices until combined.

Next, add in the butter and maple syrup and use a wooden spoon or spatula to mix the dough together. Mix until completely combined. The dough will be thick.

Put the bowl in the refrigerator for at least an hour for the dough to chill and firm up a bit.

When the dough has been in the fridge for an hour, preheat the oven to 350 degrees. While preheating, you are going to roll the dough out.

Use your hands to form the dough into a ball, and place it on a large piece of parchment paper. Next, use a regular smooth rolling pin to gently roll out the dough, always starting in the center and working your way out. You may have to turn the parchment paper a couple of times to go in different directions. Roll the dough until you have a very thin layer, about 1/4 inch thick.

Optional: If you are using an embossed rolling pin, now is the time to stamp your dough. Just place the rolling pin on one end of the dough, apply a little bit of pressure, and roll it all the way across without stopping.

Use a cookie cutter or a coffee mug to cut out the cookies. Transfer them to a lined baking sheet, and continue with the rest of the dough.

Bake the cookies for 14-16 minutes, until golden brown on the edges. Let them cool slightly before eating.
Did you love this recipe?
Leave a star rating in the comments below!