Warm Brussels Sprout Chopped Salad with Oranges & Grilled Chicken
I'm so glad that brussels sprouts are making a comeback.
Brussles, HOLLA!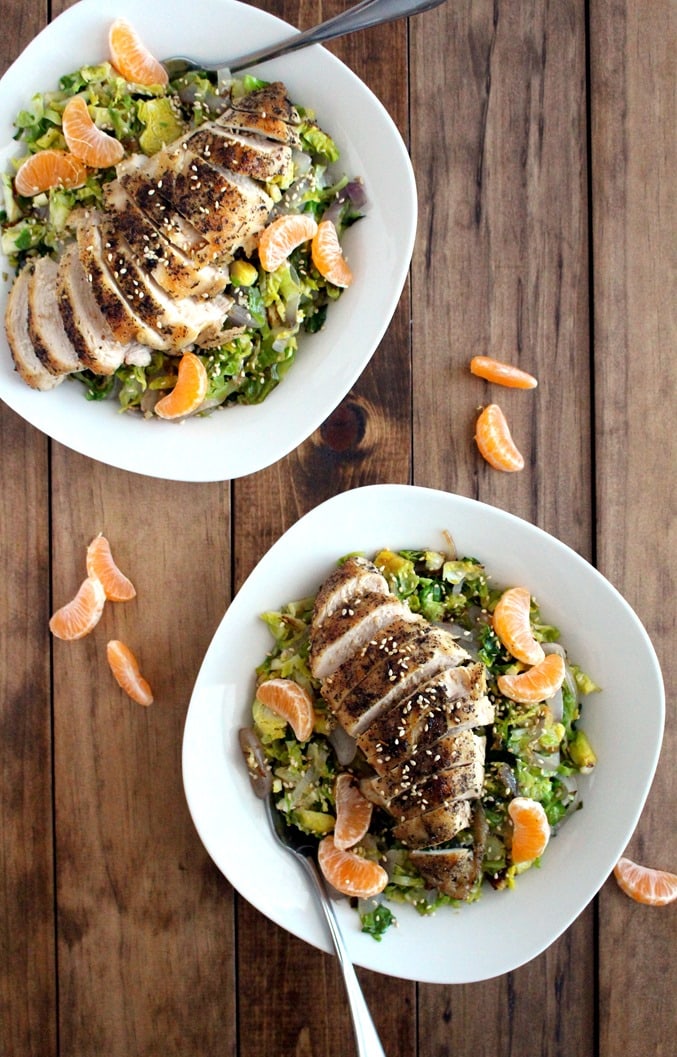 I have always loved brussels sprouts chopped up in a salad. To me, they kind of have a different taste and of course texture than when you eat them whole. They seem a little milder, and not as fibrous. Am I right? Who knows.
I like to chop them suuuuper thin to get this texture. You could always use a mandoline (which I'm sure is like magic when it comes to time saving), but I'm lame and I love chopping things, so I take the time to chop them by hand. This is why my Grandma always gives me the chopping duties when I cook with her. You need something chopped, I'm on it!
Chopped salads are my favorite kind of salads, and in this one we have shallots, sweet oranges, juicy chicken and the most simple vinaigrette to go along with the brussels. Kenny and I have determined that we could probably live on this salad. Gah, I love it.
You get different flavors from the savory brussels to sweet oranges to the herbed chicken, and same goes for the textures. I'd say it definitely has some texture, but its not overly crunchy. I think my favorite part about this dish is that it comes together pretty quickly and it packs a TON of nutrition.
Now, don't you tell me that you don't like brussels sprouts until you have tried this salad. If and when you try this salad and you don't like it (not gonna happen), then I will give you a pass. But not until then. They taste differently then whole brussels sprouts, I promise. We're in 2015, brussels are officially a thing. You know you like to stay with the trends.
Chopped Brussels Sprout Salad with Oranges & Grilled Chicken
Ingredients
4 cups brussels sprouts, finely chopped
2-3 small oranges (I used the small cuties), segmented
2 large shallots, thinly sliced
2 cloves garlic, diced
1/4 tsp salt
1/4 tsp black pepper
2 large chicken breasts
2 tbsp extra virgin olive, divided
2-3 tsp dried herb seasoning (I used herbed poultry seasoning)
2 tbsp toasted sesame seeds

Red Wine Vinaigrette

3 tbsp red wine vinegar
1 tbsp GF soy sauce
2 tbsp olive oil
pinch of salt and pepper
Instructions
Preheat a medium skillet over medium-high heat. Season the chicken breasts with the herbed seasoning and a pinch of salt and pepper. Add 1 tbsp of olive oil to the pan and place the chicken in the pan. There should be a sizzle when you set the chicken in the pan, this is how you know that it is hot enough. Brown the chicken on each side for about 3 minutes. Turn the heat down to medium once the outside is caramelized and cook the chicken for another 3 minutes or so, until cooked through.
Set chicken aside and let it rest for at least 10 minutes before you cut into it, then thinly slice it.
In the meantime, preheat a large skillet over medium-high heat and add 1 tbsp of olive oil. Add the brussels sprouts, shallots and garlic to the pan. Season with a pinch of salt and pepper and cook for 3-4 minutes, stirring occasionally, until the brussels and shallots have softened slightly.
To assemble the salad, add the brussles mixture, sliced chicken and orange segments to a large serving bowl and toss together.
In a small bowl, whisk together the vinegar, soy sauce, salt and pepper. Then stream in the olive oil while whisking to complete the vinaigrette. Lightly dress the salad with the vinaigrette (I didn't end up using all of this dressing). Toss again and sprinkle with sesame seeds.
Serve and enjoy!
https://www.thewheatlesskitchen.com/warm-brussels-sprout-chopped-salad-oranges-grilled-chicken/