[Gluten-Free] Toasted Coconut Waffles
Y'all, I think these are my favorite waffles ever. Like, the best I've ever made, greatest in all the land, favorite waffles. And I've had a lot of waffles in my time.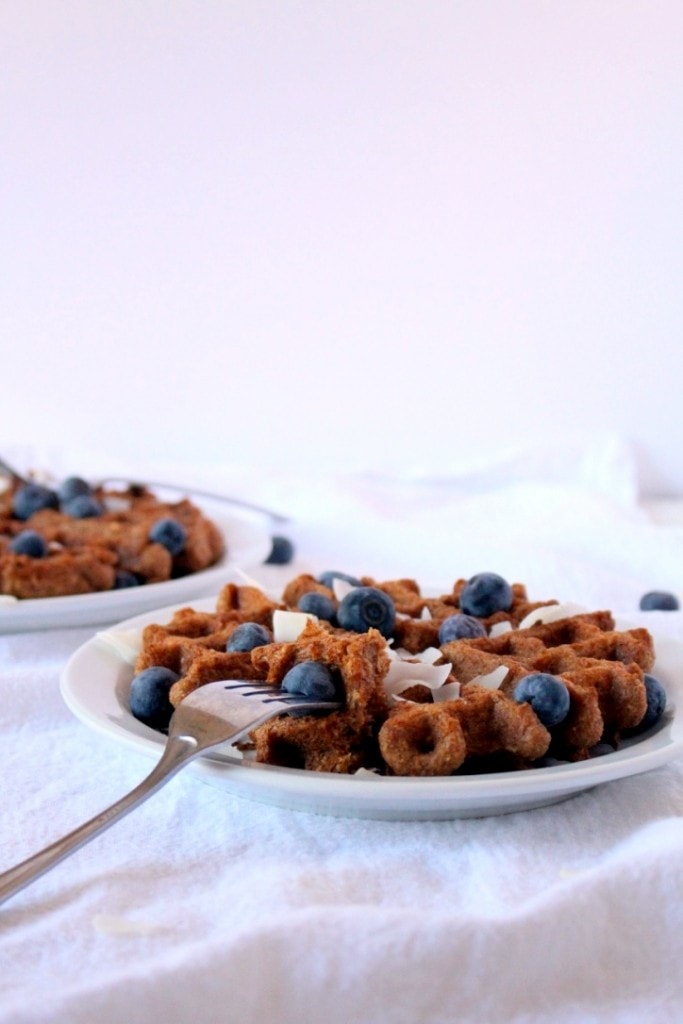 I grew up on Eggo waffles, the breakfast of champion, am I right? But now that I'm older and wiser, I go the more naturally nutritious route and make my own, it makes me feel more adult-like. Don't be intimidated by your waffle maker, you show it who is boss by making yourself some toasted coconut waffles. SO much better than Eggos.
They are so simple to throw together, and I bet you even have all of the ingredients in your pantry right now. They have almond flour, gluten-free oats, and toasted shredded coconut. TOASTED. COCONUT. The coconut is not to be missed because it gives these waffles the best flavor and texture. I'm going to start putting toasted coconut in all the things from now on.
Top them with some blueberries, coconut flakes, and some maple syrup, and you are basically in breakfast Heaven. If you make these, show me on Instagram and tag #thewheatlesskitchen, I love to see your creations!
[Gluten-Free] Toasted Coconut Waffles
Ingredients
1 cup almond flour
1/2 cup GF whole oats
1/2 cup shredded coconut
1 1/2 tbsp coconut sugar
1 tsp baking soda
1/4 tsp salt
1-2 tsp cinnamon
3 eggs
1 cup unsweetened almond milk
Optional toppings: blueberries, coconut flakes, maple syrup
Instructions
Preheat your waffle maker.
First, you need to toast the coconut, so add the shredded coconut to a dry skillet (no oil) over medium-low heat. It will start to toast fairly quickly, so you will want to frequently stir it with a spoon or spatula to make sure it doesn't burn. It will start to turn a light brown color, once it is a nice golden brown, remove it from the skillet and add it to a large mixing bowl.
In that same mixing bowl, add the almond flour, oats, sugar, baking soda, salt, and cinnamon. Whisk to combine.
Next, add the eggs and milk and whisk again until you have a smooth batter.
Spray the waffle maker with non-stick spray, and then scoop about 1/3-1/2 cup of the batter onto the waffle maker. Spread it out a little bit with a spoon, and then close the lid and wait for your waffle maker to beep. This should take about 4-5 minutes.
To serve, top with your favorite fruit, coconut flakes, and maple syrup. Enjoy!
https://www.thewheatlesskitchen.com/gluten-free-toasted-coconut-waffles/