Baked Falafel Lettuce Wraps
I had only had a falafel one time before making these little guys, and that was at a legit Middle Eastern restaurant back home in Houston. It. Was. Awesome. This was a few years back, so I was obviously eating these deep fried balls of goodness without knowing that I was allergic to them. Bummer. But not to fear, I made you some, and I think I did the original ones justice. And I think I created a monster in the process.
I knew that it was going to be a challenge to recreate the ones that I had at that restaurant to be equally as tasty, but I think I did it. It was a pretty lofty goal, see as how I definitely wasn't going to fry them. Because, you know I don't fry things. So baked it is. And surprisingly, they have almost the same texture as the fried ones! Score.
I wanted to pump up the nutritional value even more, so I used quinoa in the batter mix instead of another type of flour or grain. I really like the flavor and texture that it gives to the falafel. They are slightly crispy on the outside, and super soft on the inside. I did some major damage to the batch that I made. I'm pretty sure I ate at least 75% of the batch, and Kenny was left with 25%. Oops. I couldn't stop eating them. And besides, he called them girl food. Whatever, more for me.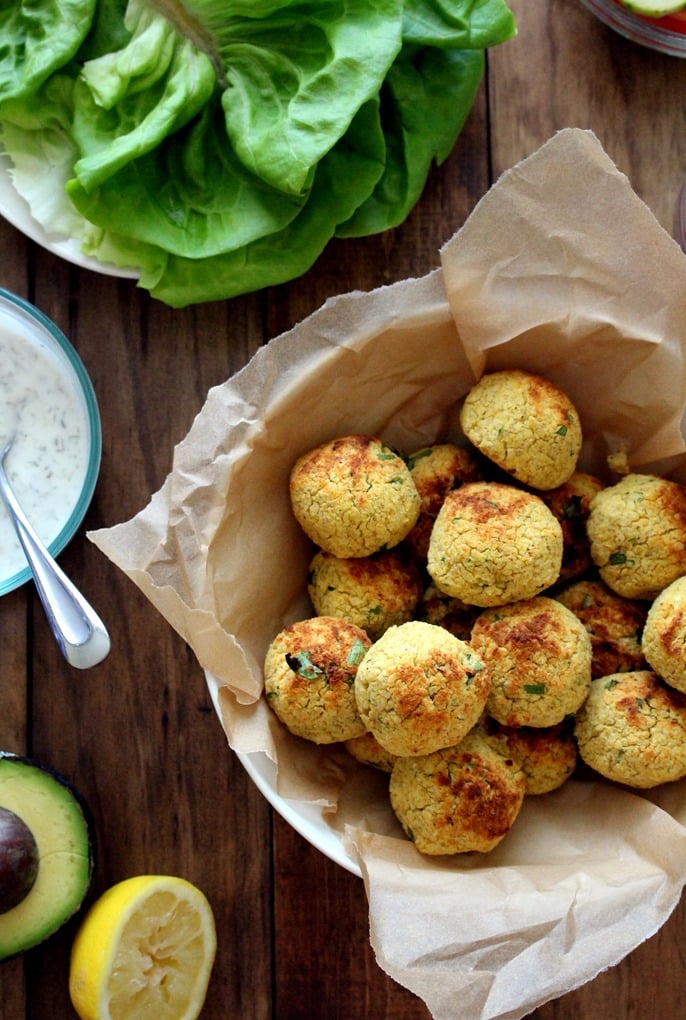 I ate on these alllll week long, on salads, with roasted veggies, in a wrap, by themselves (straight into my face hole), and even for breakfast with eggs and the amazing yogurt sauce that you see alongside. They're so versatile, I never got tired of them.
After writing this, I just decided to go make another batch. Stat.
Baked Falafel Lettuce Wraps
Ingredients
Falafel

2 cups cooked chickpeas
1/2 of a large onion, roughly chopped
2-3 garlic cloves, peeled + roughly chopped
2 tsp cumin
juice of 1/2 a lemon
2 tbsp olive oil
1/2 tsp each salt and pepper
1 tsp baking soda
1 cup cooked quinoa
1/2 cup chopped parsley
1 tbsp sesame seeds (optional)

Lemon Dill Yogurt Sauce

1/2 cup plain yogurt (I used goat yogurt)
juice of half a lemon
1 tsp honey
2 tsp dried dill
1/4 tsp pepper

Lettuce wrap components

butter lettuce leaves (or romaine)
1/3 cup chopped tomatoes
avocado
Instructions
Preheat oven to 375 degrees, line a baking sheet with parchment.
In a food processor, add the chickpeas, onion, lemon juice, garlic, cumin, salt, pepper, olive oil, baking soda and sesame seeds. Pulse until you have a thick paste, without almost no chunks.
In a large mixing bowl, add the chickpea mixture, quinoa and parsley. Stir together until evenly combined.
Form the falafels with your hands by taking about 2 tbsp of the mixture at a time. Gently roll it in the palm of your band to form a ball, and place it on the baking sheet. Continue with the rest of the batter.
Bake for 30 minutes, until lightly browned and slightly crispy on the outside.
While the falafels bake, make your sauce. In a small bowl, whisk together all of the yogurt sauce ingredients and let it sit in the fridge until ready to use.
Build your lettuce wraps by layering the falafels, veg components and sauce into a lettuce leaf.
https://www.thewheatlesskitchen.com/baked-falafel-lettuce-wraps/