Gluten-Free Travel -> Scottsdale, AZ + The Grand Canyon
Over spring break, we took a little vacay and headed west to Arizona. We hit Phoenix, Scottsdale, Flagstaff and The Grand Canyon. It was such a nice and relaxing trip, we ate so much good food and saw one of the most beautiful sites I've ever seen. There are seriously no words to describe The Grand Canyon, and pictures do it no justice. But regardless, I went a little picture happy on this trip, get ready to be flooded with amazing pictures of the canyon.
We flew in to Phoenix, drove around there for a while, and then made our way over to Scottsdale. One of our closest friends kept telling us that Scottsdale is his favorite city ever, and I never really knew much about it. But it was definitely one of the coolest cities I've been to. It actually reminded us a lot of Houston, but on a slightly smaller scale. The area of Old Town Scottsdale was the cutest, there were tons of wood beams, cowboy hats and wagon wheels everywhere. I felt a little like I stepped back in time into the Old West. I didn't know this before we got there, but Scottsdale is one of the only three cities in the U.S. that has the famous LOVE sculpture.
We stopped for a little mid morning snack at 24 carrots. I really liked this cute little cafe. All of their food is vegetarian or vegan and locally sourced. I got a smoothie full of greens, apple, banana, lime and basil. Kenny had a chocolate almond butter version. Both were suuuuper tasty.
Our favorite place that we ended up eating at was definitely Chop Shop. We ate there for lunch on the first day we were there, and loved it so much that we went back the next morning for breakfast. I seriously LOVED this place. And if I lived in Scottsdale, there is a real chance that I would want to work there part time just to be around all of the super cool fellow foodies that worked there. Their menu was pretty simple, they have fresh pressed juices, smoothies, DELISH cold brew coffee, salads, sandwiches, and build-your-own bowl concoctions. Everything that we tried was SO good.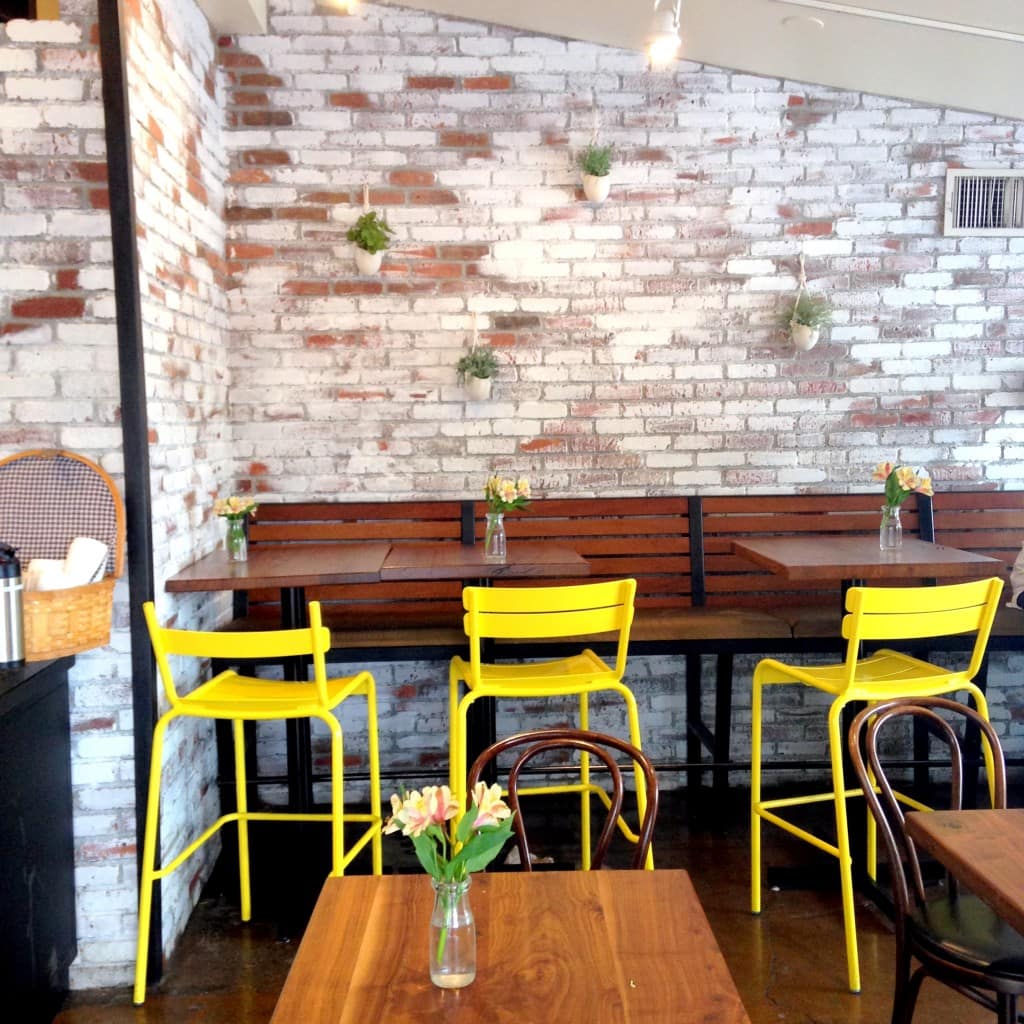 For lunch, we both got a green juice and a grilled chicken + roasted veggie bowl. Mine with quinoa, his with brown rice. The chicken had a thai peanut sauce on it that was to die for. The next morning for breakfast we both got another bowl, in their breakfast version. Roasted veggies, brown rice and scrambled eggs. So simple and so good. Chop Shop was really accommodating to food allergies. They keep their gluten-free ingredients separate from the gluten-containing ones. I really wanted to get the acai bowl for breakfast, but they made sure and told me that the granola on top wasn't gluten-free.  This place was wonderful, and I felt great after eating there both times.
Oh and sidenote: If I ever end up opening a restaurant of my own, I want it to look just like Chop Shop. The vibe there was cool and casual.
Before we left, we had lunch at True Food Kitchen, because any time we are visiting a new city and they have  a TFK, we are SO there. True Food is one of our favorite places, and they really take the right kind of precautions when it comes to food allergies.
From Scottsdale, we headed north to Flagstaff, where we stayed at a really nice, very "Arizona" looking hotel. Cactus, wood and adobe everywhere. We made our way out to The Grand Canyon that evening to get some sunset pictures, which turned out really cool. I was actually super annoyed that Kenny was wanting to drive all the way out there that night only to see the canyon for all of 5 minutes, but I got over myself and stopped whining when I saw how beautiful it was at sunset.
The next morning, we woke up early and made our way back out to the canyon. You guys, I have no words. This was one of the most amazing things I've ever seen. The pictures will never do it justice, and I will never really be able to describe to you what we saw that day. The depth of the canyon was amazing, and the drop offs on the side of the cliffs will scare the crap out of you. But you know that didn't stop me from sitting on the edge of the rock.
We didn't go on a full hike, but we did walk the canyon trail for a while. We ended up driving practically the entire south rim of the canyon, and we stopped at pretty much every look out point that we could. I'm so glad we went and crossed this off of our bucket list.
We made our way back to Lubbock by driving through Santa Fe and staying there for a night before we headed back home. We had a late dinner at India House, which was really good. Pretty much all of their food is gluten-free there, with the exception of their naan bread, so we didn't have any cross contamination issues. And of course, when we are in Santa Fe, we have to stop at our favorite 100% GF bakery, Revolution Bakery. I got french toast and Kenny got their buttermilk pancakes. SUH GOOD. I highly recommend this place, they have tons of breads and baked goods that are delicious.
We had so much fun on this trip, and if you ever get the chance to see The Grand Canyon, you MUST go!