Gluten-Free Travel -> Costa Rica
We had such an incredible time on our trip to Costa Rica, that I really don't even know where to start when telling you guys about it!
First, I can't say enough about the resort we stayed at, Arenas Del Mar. When we were researching and planning for this trip, Kenny happened to come across their website, and we discovered that they actually specialize in gluten-free food. They really cater to people with different types of food allergies, so we knew we HAD to check it out. Kenny emailed the chef before we went, just to let him know about my allergies, and to tell him that we looked forward to going on a vacation where we won't have to worry as much. And they did not disappoint in any capacity, I didn't get sick once on this trip! We both agreed that it was some of the best food we've ever had.
It really started from the second we stepped on to the property. When we were checking into our room, they already had it noted that I had an allergy to gluten, as well as sensitivities to dairy and corn, so we were immediately impressed. The staff was wonderful throughout our entire trip, they were always so friendly, helpful, and seemed genuinely happy to be there. The rooms are modern, simple, and really beautiful. We had an amazing ocean view that was so serene.
This trip was a perfect mix of relaxing, inspiring, and fun. We were there for 5 days, and we felt like we had enough time to just relax on the beach and do nothing if we wanted, but we were also able to go explore and do some fun excursions. The beaches in Costa Rica are AMAZING. The sand is white, the water is gorgeous, but watch out for the rocks, they are brutal on the feet. Well, just my feet, Kenny thought I was a wimp.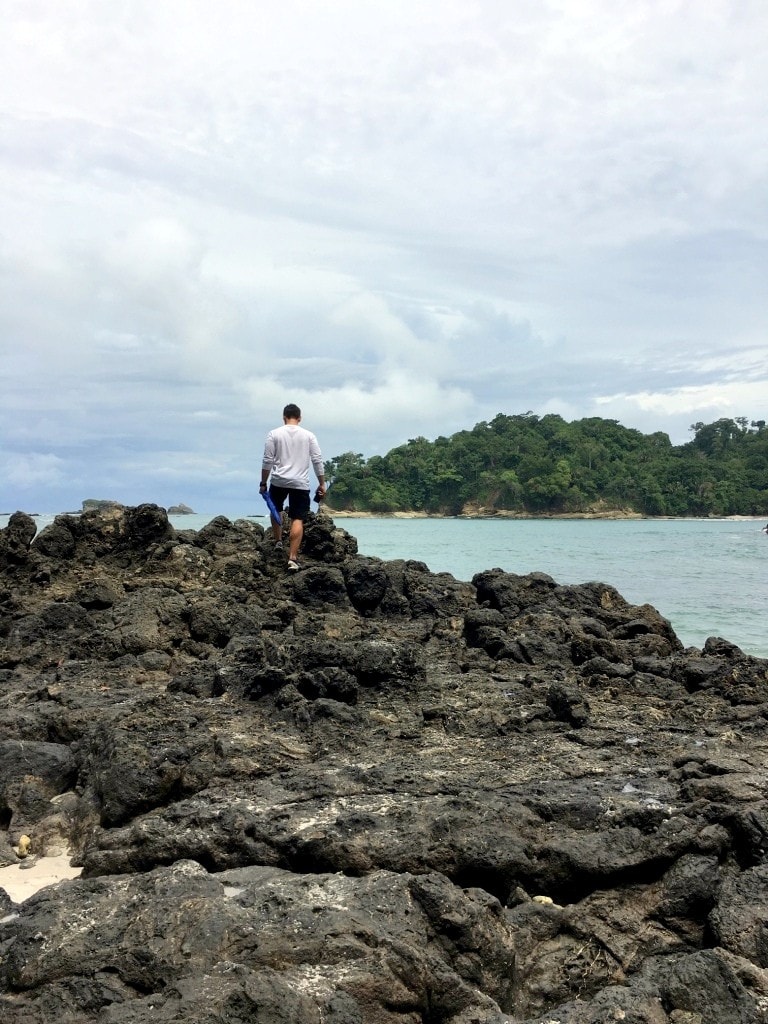 One of the mornings, we walked over to Manuel Antonio National Park, which was about a 25 minute walk down the beach from our resort. First, can we just talk about how HOT this country is?!?! Seriously, I thought what I grew up in (Houston humidity) was bad, but it has nothing on the Costa Rica humidity. It literally feels like you are in a mild sauna all day every day. And then you factor in the sun, I thought I was dying. At one point during our hike in the national park, I was pretty much OVER IT because I felt like I was suffocating.
That's dramatic, but for real.
The national park was absolutely beautiful, and we got to see some really cool animals like sloths and monkeys. MONKEYS! Okay, so this was my favorite part of the day because we were able to get so close to them! I told Kenny before we came here that all I wanted to do in Costa Rica was hold a monkey. Well, when we got to the park, they told us not to touch or feed the animals, which is understandable because they are wild. Duh. So my dream to play with the monkeys was crushed pretty quickly, but I was okay with it when I found out that these little guys are actually pretty aggressive. There was a guy there with a selfie stick that was trying to get up close and personal with them, which I didn't think was very smart. He threw his backpack up on this huge rock to bait them, which worked like a charm. We were standing there watching this whole thing happen (and trying to snap a few pictures), when the guy tried to take away the backpack. Bad idea, because the monkeys did not like that. One of them literally took an attack posture and showed us his teeth.
NOPE. I'm out. Bye Felicia.
We also went on a zipline tour! It was incredible to fly through the rainforest, but again, so incredibly hot. Aaaaaand we are pretty sure that this is the day I got bit by the mosquito that gave me Dengue Fever. YEP, you read that right. Freakin' Dengue Fever! I mean, who gets that?! Me.
We wore mosquito spray the entire time we were there, but we were really more worried about Zika than anything else. But mosquitoes have always been attracted to me, I am always the one that gets eaten alive by them if I'm around them. I didn't even have any symptoms until about 6 days after we got back home. Apparently it sort of hangs out in your system for a few days before you start feeling symptoms. It started with a headache that lasted for 3 days, then the high fever, and then I fainted. Oy. Thank the Lord my husband was there for that. After being stubborn for a few days, I finally went to the doctor, and they did some blood tests. When we found out that it was Dengue Fever, my doctor actually joked about how she has never diagnosed someone with that before. Well, you're welcome Doc.
Dengue is viral, so there is really nothing you can do other than rest, take Tylenol, and drink lots of fluids until it runs its course. I am feeling back to normal now, but it was rough there for a while. Stupid mosquitoes.
You will have to bear with me on the food pictures, some of them are kind of terrible because we never had great lighting. But let me just tell you, Chef Adrian knows what he's doing. All of the food was so fresh and delicious, neither one of us had a bad meal the entire time we were there. The seafood was amazing, everything was always cooked perfectly, and I got so many good ideas for blog recipes!
By the end of the week, I was becoming a serious fangirl for Chef Adrian (nerd alert). You could tell that he and his sous chef really take pride in their work and truly love what they do. They were so accommodating, and took my food allergies very seriously. There was a separate gluten-free menu, which was very helpful. But they were never against making something special and off the menu if we wanted. They even went as far as to make us a few special desserts because most of them had dairy in them.
On one of our last nights there, the chefs made us a special 4-course dinner, and we were absolutely blown away. None of this was on the menu, they just surprised us with new creative dishes. Every time a new course would come out, we were completely in awe of how beautiful and delicious each one was. It was definitely one of the best meals we have ever had, hands down. (And one of the coolest dessert plates I've ever seen.)
My fangirl status hit a new high after that meal, and I just had to get a picture with Chef Adrian. I'm pretty sure we thanked him 862549 times, we just couldn't get over how much extra care he put into each meal just to make sure I didn't get sick.
And we can't forget about our new friend Luis! He was our waiter for the majority of our meals all week, and he was just the sweetest man ever. We learned so much about him, and were so inspired by his heart and upbeat spirit all week long, that we were actually sad to leave him on our last night.
Overall, I can't recommend Arenas Del Mar enough. We had a wonderful stay, and ate amazing food all week long. I'm looking forward to going back some day.
I was not compensated by Arenas Del Mar for this post, and all opinions are my own. We just had an incredible experience, and if you are someone with a food allergy thinking about traveling to Costa Rica, you should know about this place.