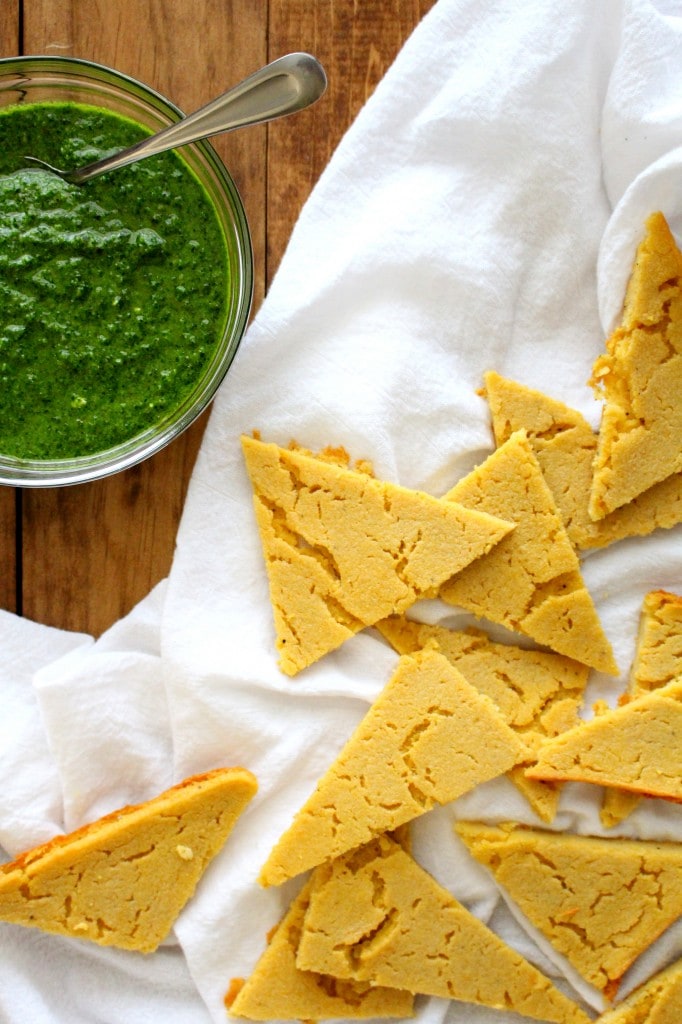 This is the kind of flatbread that you can dip in pretty much anything, and it would still be good. It is made with only chickpea flour, so it is gluten-free, healthy, and so ridiculously easy. Seriously, the actual work time for this recipe is next to nothing.
Eating this flatbread makes me feel a tiny bit like I'm in Europe, touring Italy and France. It is light, earthy, soft, chewy, and absolutely wonderful dipped in your favorite pesto. Or even just olive oil. Try that, trust me.
I love the fact that this flatbread requires so few ingredients. Italians really know what they're doing when it comes to food. All you need is chickpea flour, a good quality olive oil, water, salt and pepper. Mix, let it rest, and bake.
I told you it was easy.
You will really impress your friends with this one. It looks and tastes way more sophisticated than it really is.
Ingredients
2 1/2 cups chickpea flour
3 cups cold water
1/4 cup extra virgin olive oil
1 tsp salt
1/2 tsp black pepper
Instructions
In a large mixing bowl, add the flour, salt and pepper. Whisk to combine.
Slowly pour in the water as you whisk the mixture together. Keep mixing until there are no clumps, then stream in the olive oil. Whisk to combine.
Cover with plastic wrap and let the mixture sit at room temperature for at least 2 hours.
After resting, preheat the oven to 350 degrees. Gently skim any foam off the top with a spoon.
Prepare a large (rimmed) baking sheet but pouring about 3 tbsp of olive oil in the bottom of the pan. Rub it all around with your hands or a spatula to coat the bottom.
Gently pour the batter onto the baking sheet. Be careful when you pick the pan up, the batter is still pretty thin and it can spill easily.
Bake for about 30-35 minutes, until slightly golden on top. Let it cool for a few minutes before you remove and cut into triangles.
https://www.thewheatlesskitchen.com/socca-flatbread/