Let's eat ALL the vegetables today. Because tomorrow, I'm bringing you something indulgent (but still pretty healthy), and I'm super excited about it! Get excited.
When I saw this recipe for collard wraps, I just knew that I had to recreate it in some way. I omitted and added a few fun things, and these collard wraps turned out great! They are packed with tons of nutrition –> protein, carbs, fiber, antioxidants, and so much more.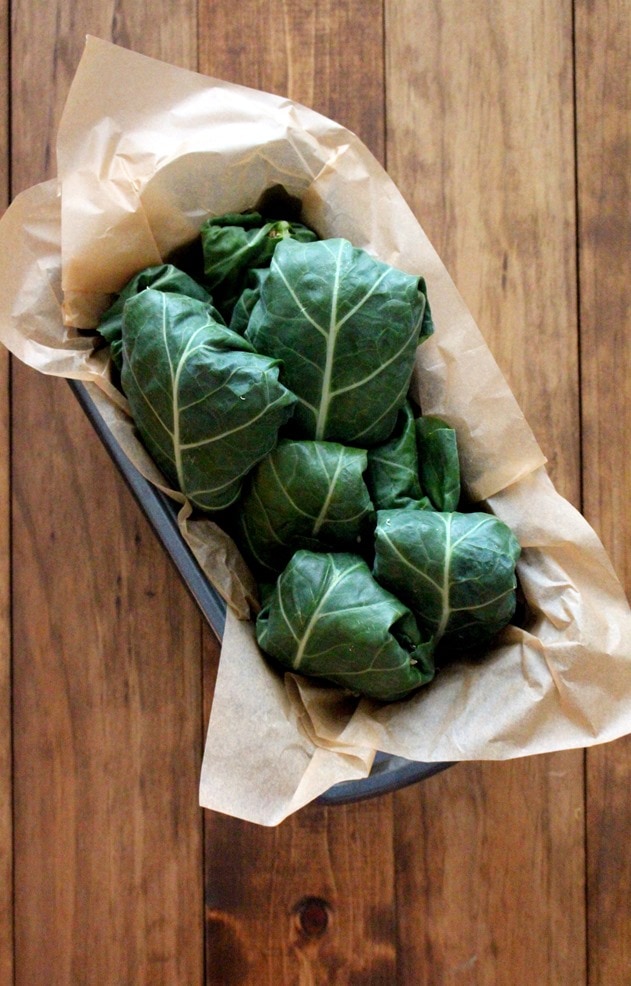 Is it weird that I just recently tried collard wraps for the first time? For shame! I've had collard greens in salads and soups, but never as wraps. And I've decided that I love them. I'm sure there will be many more variations on the blog some day.
There are SO MANY textures going in these wraps, just the way I like it. I decided to roast the chickpeas instead of leaving them raw because I wanted a little extra crunch. No one wants mushy wraps. #aintnobodygottimeforthat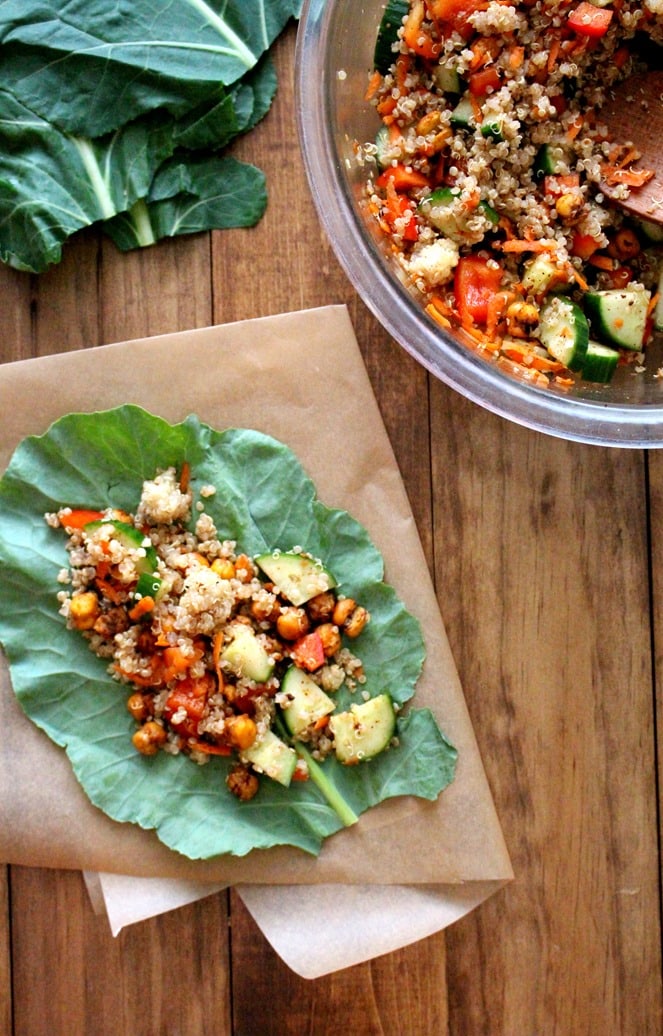 You also have protein-rich quinoa, grated carrots, sweet and crunchy bell peppers, cucumbers and creamy goat cheese. Oh man, so dang good. These wraps are filling, hearty and refreshing all at the same time. I added a little extra zing with some balsamic vinegar just for fun. Because, why not?
This recipe makes a bunch of smaller sized wraps, so they are perfect for an on-the-go meal, filling lunch, or light dinner. Get to wrappin', my friends.
Quinoa & Roasted Chickpea Collard Wraps
Ingredients
1/2 cup cooked quinoa
1 carrot, grated
1 (15oz) chickpeas, rinsed and drained
1/2 red bell pepper, chopped
1/2 large cucumber, chopped
10 collard leaves, stems removed
2-3 tbsp balsamic vinegar
1/3 cup goat cheese
1 tbsp olive oil
1 tsp chili powder
1 tsp cumin
pinch of salt
Instructions
Preheat oven to 400 degrees. Line a baking pan with foil, lay the chickpeas onto the pan. Drizzle the olive oil, season with chili powder, cumin and salt. Toss to coat. Roast for about 30 minutes, until chickpeas are slightly brown and crunchy.
In a saucepan, combine the quinoa with 1 cup of water. Cover and bring to a boil, once boiling, turn heat down to low and let it simmer for 15 minutes. When all of the water is absorbed, fluff with a fork.
In a large bowl, combine the roasted chickpea, quinoa, carrot, bell pepper, goat cheese and cucumber. Stir to combine.
Pour the vinegar over the mixture and toss again, until evenly coated with the vinegar.
Take a collard leaf, lay it out flat, and spoon about 1/2 cup of the quinoa mixture onto the center of the leaf.
Carefully roll the leaf up like a burrito, tucking in the sides and you roll. Stick a toothpick in it to keep it from falling apart.
Repeat with the rest of the collard leaves.
https://www.thewheatlesskitchen.com/quinoa-roasted-chickpea-collard-wraps/