Moroccan Roasted Chickpea Salad
It's Monday, so let's start it off with a salad!
Okay, don't hate me. It's a salad full of carbs. That's right, I knew I'd get you back on the salad train.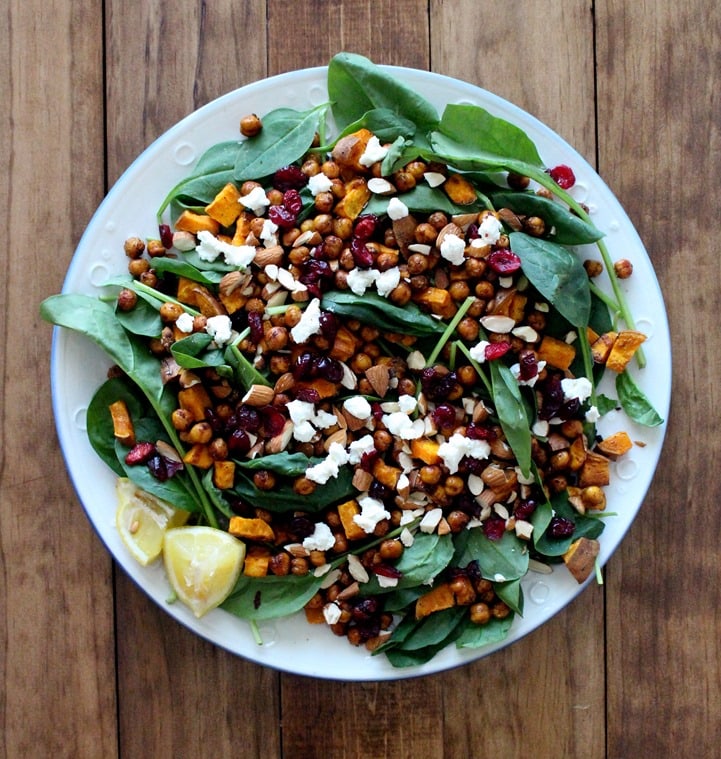 I saw this chicken salad on Bev's blog (have you seen her babies?!?! THE ROLLS!!) a while back, and I finally got around to recreating it. I decided to get a little crazy and replace the chicken with chickpeas, and add a couple of extra fun things in there too. I went with sweet potatoes, almonds, spinach, goat cheese and cranberries to accompany my chickpeas.
The spice mix that goes into the marinade for the chickpeas is basically the bomb. We have cinnamon, paprika, cumin, lemon, honey, soy sauce and olive oil. You could actually eat them just like that in the salad, but I wanted to roast them and get that great crispy crunch. Does 'crispy crunch' even make sense? Whatever, you catch my drift.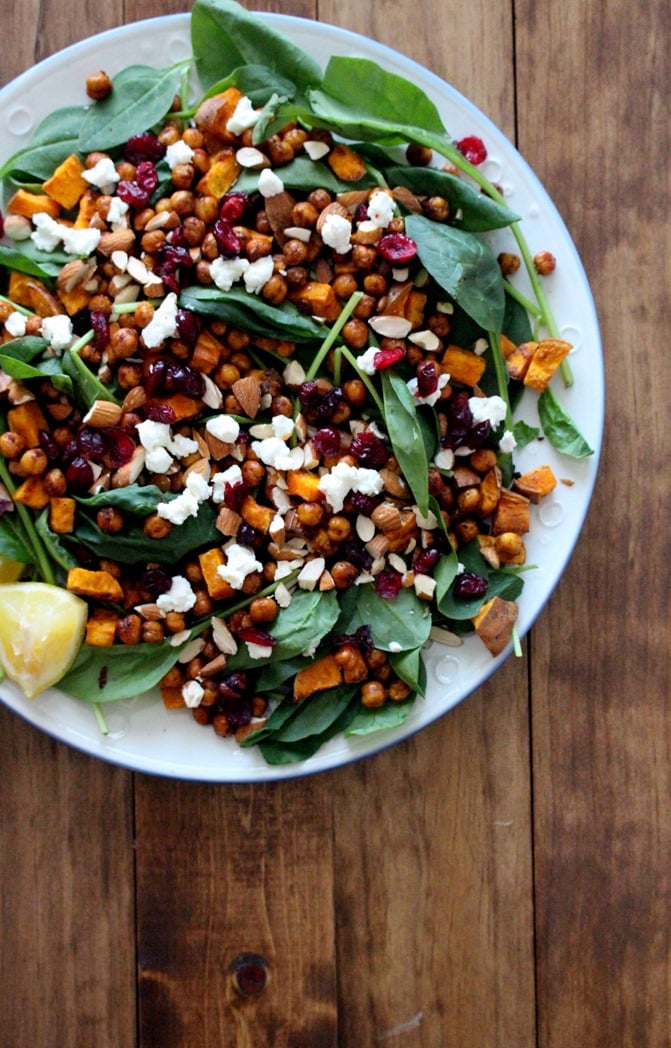 This salad pretty much has it all –> greens, healthy carbs, protein, sweet, savory, crunchy, creamy, spice-rific. Oy, there I go making up words again.
This is totally husband approved, he actually said that this is "one of the best salads you've ever made." Um, whoa.
Moroccan Roasted Chickpea Salad
Ingredients
4-5 cups spinach leaves
1 large sweet potato, chopped into small pieces
3 cups cooked chickpeas
1/2 cup chopped almonds
1/3-1/2 cup dried cranberries
~5 oz goat cheese, crumbled

Chickpea Marinade

2 tbsp GF soy sauce
2 tsp honey
2 tsp cinnamon
2 tsp paprika
2 tsp cumin
2-3 tbsp extra virgin olive oil
juice of 1/2 lemon
pinch of black pepper

Lemon Vinaigrette

juice of 1/2 lemon
3 tbsp red wine vinegar
1-2 tbsp olive oil
small pinch of salt and black pepper
Instructions
Preheat the oven to 400 degrees. Line two baking sheets with parchment or foil.
In a large bowl, combine all of the ingredients for the marinade and whisk until combined. Add the chickpeas to the bowl and toss to combine. Pour the chickpeas onto a baking sheet and let sit for about 10 minutes.
Place the chopped sweet potato on a baking sheet and drizzle with about 1 tbsp of olive oil and season with salt and black pepper. Toss to coat.
Place both baking sheets in the oven and roast for about 30 minutes, until the chickpeas are slightly brown and crispy and the potato is slightly brown and cooked through.
To assemble the salad, place the spinach onto a large serving plate or bowl, layer on the potatoes and chickpeas, then sprinkle the almonds, cranberries and goat cheese over the top.
In a small bowl, whisk together the vinaigrette ingredients and pour over the salad.
Serve and enjoy!
https://www.thewheatlesskitchen.com/moroccan-roasted-chickpea-salad/