Peanut Butter Oat Balls – Cooking with Candace [Kids' Edition]
I've told you guys all about my cooking class that I teach every Monday at the Lubbock Dream Center, and how much fun I have had over the past few months. Well, last week, we had a kids' edition cooking class, and it was a blast!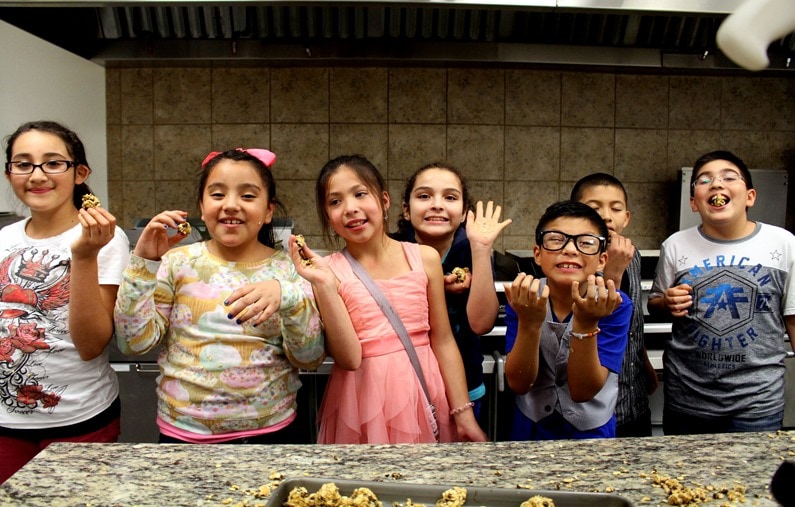 Normally, I hold the class with the ladies that come to the women's Bible study on Mondays to teach them about wellness and healthy living, but I decided that it would be so much fun to involve their kids for a change. The moms can't have ALL the fun! I picked out a handful of kiddos to attend the class, and we got to work on our homemade treats.
We made one of my favorite kid-friendly snacks –> Peanut Butter Chocolate Chip Oatmeal Balls
They are so simple to make and only require 5 ingredients. The kids loved making them because they were able to play with their food and get their hands dirty. Just keep an eye on them, I'm pretty sure I said "stop eating the chocolate chips" at least 20 times before we were even done mixing the batter.
They are sweet, but not too sweet, which is always a plus when it comes to kids. No bouncing off the walls today. And of course they are made with healthier ingredients so you can feel good about giving them to your kiddos. I think this is the perfect after-school snack because it will keep them satisfied until dinner.
Aren't these kiddos the cutest?!?! I'm pretty sure they would have gobbled every last one up if I hadn't kept some from them. We shared the rest with their other friends that didn't get to come to the cooking class. I had so much fun with these crazy kids, I can't wait for this to become a regular occurrence!
Cooking with Candace [Kids' Edition]
Ingredients
2 cups GF old-fashioned oats
1 cup creamy natural peanut butter
1/3 cup ground flax seed
1/2 cup honey
1/2 cup mini chocolate chips
Instructions
In a large mixing bowl, add the oats, flax and chocolate chips and stir to combine.
Then add the peanut butter and honey and use a wooden spoon to gently stir everything together. It may take a few minutes to really get everything mixed well.
Check to see if the mixture is too dry. You should be able to pinch it together with your fingers and make it stick together. If it is too crumbly, add a little more peanut butter.
Once the mixture is well combined, take a tablespoon amount and roll it in the palm of your hands to make a ball.
Continue making the balls with the rest of the batter.
https://www.thewheatlesskitchen.com/cooking-candace-kids-edition-peanut-butter-oat-balls/