Breakfast Stuffed Sweet Potato
I think we all like to have those go-to, super quick, nutrient dense breakfasts that will hold us over until lunch. Am I right?
Enter, breakfast stuffed sweet potato.
This loaded breakfast has everything you need in the morning. Complex carbs, healthy fats, protein, antioxidants, and even some probiotics to start your day off right. It is super filling without feeling heavy, and is packed with lots of nutrients.
This breakfast will come together in 3 minutes flat if you have the sweet potato prepped beforehand. My suggestion is to throw an extra sweet potato or two in the oven while you're doing your meal prep on Sunday to have them ready and waiting for you throughout the week. This makes it so convenient to just grab your cooked sweet potato out of the fridge, throw on all of your favorite toppings, and breakfast is served!
For this one, I went with a little Kite Hill almond yogurt, fresh blueberries, a drizzle of creamy almond butter, hemp seeds, and a little bit of honey to top it off. This is probably my favorite combo at the moment, but you can use whatever fresh fruit, nuts/seeds, and yogurt that you have on hand. Bananas are another favorite of mine if you don't have berries.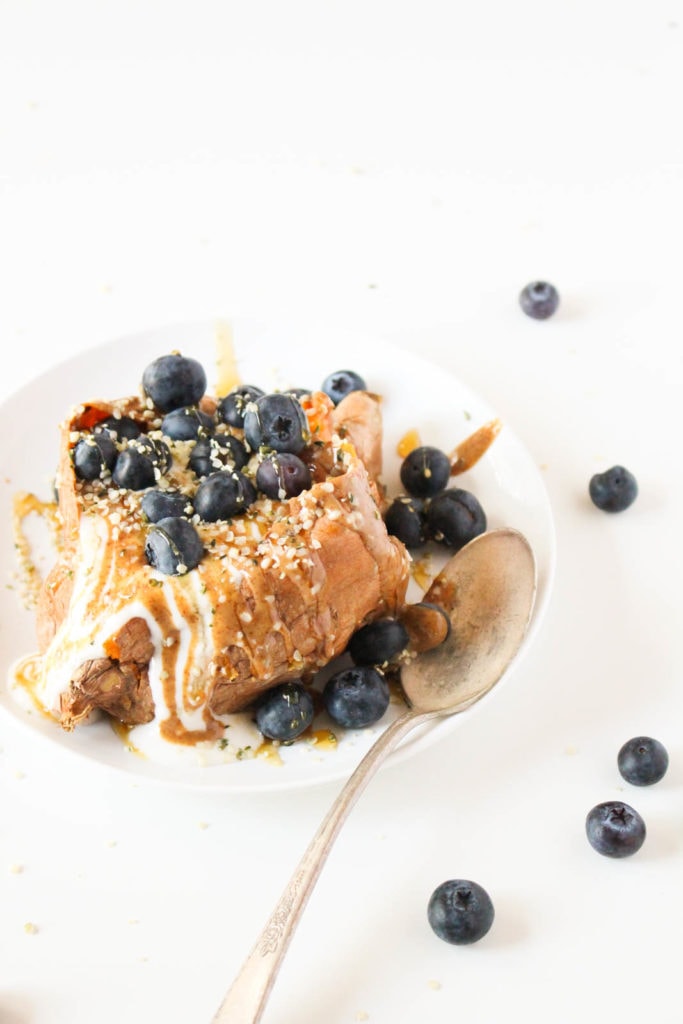 Make this one time, and I promise it will become a staple in your breakfast routine.
Breakfast Stuffed Sweet Potato
Ingredients
1

medium sized

sweet potato

cooked

1/3-1/2

cup

unsweetened yogurt

I used Kite Hill dairy-free

1/3

cup

fresh blueberries

1-2

tbsp

creamy almond butter

2

tsp

hemp seeds

1

tsp

honey
Instructions
Prep ahead of time: cook a whole sweet potato in the oven at 375 for about 30 minutes, until you can easily stick a knife all the way through it. Let it cool and store it in the fridge until you are ready to add your cold toppings.


To assemble, cut the sweet potato lengthwise, then take a fork and soften up the inside to make it nice and creamy.


Top with the yogurt and blueberries. Then drizzle the almond butter and honey over the top. Sprinkle on the hemp seeds.


Serve and enjoy!