Banana Bread Overnight Oats
Cold breakfasts are starting to come back into my life.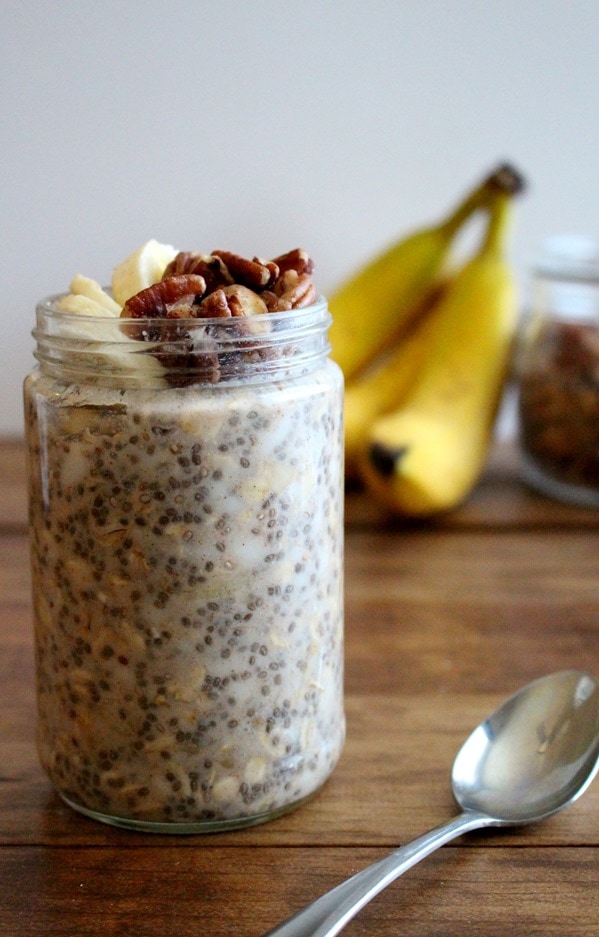 When the weather is cold, I CANNOT handle cold breakfasts. I always feel like I'm going to freeze my little tootsies off. But when it starts to get warmer, out come the smoothies, yogurt bowls and cold overnight oats.
I was intrigued by the idea of overnight oats for a long time, and I'm not going to lie, I was pretty skeptical of cold, uncooked oats. I don't know, I just thought that the texture would be weird. But I was obviously wrong. If you make them right, they are DE-licious. The main ingredients are normally oats, yogurt, milk and chia seeds. From there you can get crazy and flavor it however you want. Today, we're going with banana bread.
Cold, creamy, sweet, filling, and full of bananas, cinnamon and pecans. Everything a breakfast should be! My favorite part is the fact that you can throw everything in a jar at night and the next morning you wake up to breakfast that is ready to be eaten.
Just pair it with a little coffee, and you're set.
Banana Bread Overnight Oats
Ingredients
1/3 cup GF whole oats
1/4 cup plain yogurt (I used dairy-free coconut yogurt)
1 ripe banana
1/2 cup unsweetened almond milk
1 tbsp chia seeds
1/2 tsp ground cinnamon
1 tbsp real maple syrup
pecans for topping
Instructions
In a jar, container, or bowl, combine the oats, yogurt, milk, chia seeds, cinnamon, maple syrup and half of the banana (mash banana before mixing). Stir to combine.
Let sit in the refrigerate overnight to thicken.
Top with pecans of the other half of the banana.
Serve and enjoy!
https://www.thewheatlesskitchen.com/banana-bread-overnight-oats/