Maple Millet Chia Granola
Oh my gosh! Here we go!
This is my very first blog post, and I am so so so excited about my little baby blog! Throughout my journey here on The Wheatless Kitchen I hope to help people realize that eating a gluten-free diet is not torture. You are really not that limited with the foods that you can eat, you just have to be willing to be creative.
Let's start off with a recipe, shall we?! We are starting with granola today. I have been completely obsessed with this granola recipe lately. I'm pretty sure I've gone through about 3 batches within the past week. Self control? Nah. I make my own rules.
I kind of just threw this recipe together off the top of my head. I happened to have oats and puffed millet on hand and decided that I needed some maple syrup in my life right at that moment. And boom, there you have maple millet chia granola.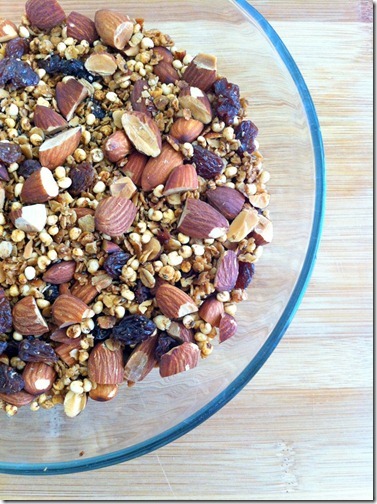 I say, If you want to eat granola for breakfast, lunch, and dinner, then more power to you. I guess I should throw some vegetables in there somewhere. But I can't be bothered with vegetables right now, I'm busying shoving granola into my pie hole 🙂
I think that my favorite way to enjoy this crunchy granola is with a little almond milk poured over the top, and some fruit on the side. You could also just eat it by the handful, which is what I do when the batch is right out of the oven. This may also be the reason that half of the batch is gone within 3 minutes of coming out of the oven. Oops.
Ever since I cut gluten out of my diet, I have found that a lot of the prepackaged gluten free products are so expensive! $7 for a tiny little bag of crappy, soft granola?!?! I'll make my own, thank you very much. This recipe is very simple to make, and has several different texture combinations from the oats, nuts, raisins and chia seeds. I have this thing about the texture of my food. I like my granola super crunchy and my cookies soft and chewy.
Oh yeah, I promise I eat more than just granola and cookies 😉
Maple Millet Chia Granola
Ingredients
1 cup gluten-free rolled oats
1 cup puffed millet
1 1/2 cups whole roasted unsalted almonds
2 Tbsp chia seeds
1/2 cup raisins
1/4 cup real maple syrup
1 Tsp vanilla extract
1/4 cup coconut oil
1 Tsp cinnamon
Pinch of salt
Instructions
Preheat oven to 325 degrees. Chop almonds into small pieces. I basically just chopped them in half.
Combine oats, millet, almonds and chia seeds in a large bowl.
In a small bowl, whisk together maple syrup, vanilla extract, coconut oil, cinnamon and salt.
Pour all of the wet ingredients into the oat and nut mixture and stir until combined evenly.
Pour granola mixture onto a baking sheet and bake for 45-50 minutes, stirring every 10 minutes or so.
After you take the granola out of the oven, let it cool for a few minutes, and then you can add the raisins.
The mixture will harden as it cools. After you let it cool down, transfer it to an airtight container and enjoy!
https://www.thewheatlesskitchen.com/maple-millet-chia-granola-2/