Crock Pot Turkey & Bean Chili
It. Is. Freezing. The forecast says that Lubbock is supposed to have temps below 20 for at least the next five days. This is no bueno. Hopefully we will at least have some snow to show for it. We can only hope! As for right now, chili is really helping to keep me warm and cozy. You are going to love this one, it's as simple as simple can get. It only has minimal ingredients and is thrown into the crock pot. Yessss.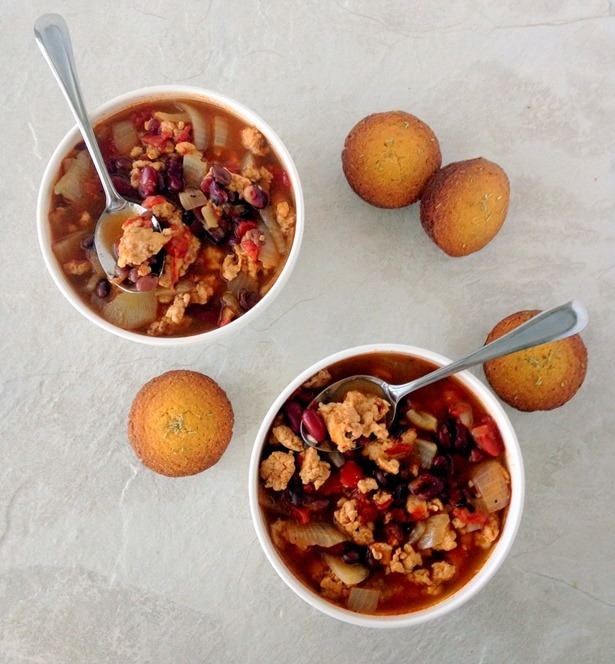 This chili is healthy comfort food at its finest. Chili and cornbread is one of my favorite meals during the colder months, I could eat it every day. Oh yeah, and reason #874 why I love the crock pot, your house smells ah-mazing as it's cooking.
Every time I make a chili, soup or stew, it always brings me back to my childhood, specifically my grandma's house. It just makes me think of all of the times we would be at grandma's, and the delicious smell of whatever she was cooking would fill the house. Her house was always my favorite place to be when I was a kid, partly because there was always good food simmering on the stove or baking in the oven. Ahh, let's all go to grandma's right now! I'll meet you there.
And like I said, you are only using minimal ingredients for this crock pot chili. Turkey, beans, onion, and tomatoes are your only main ingredients. Easy and healthy! And of course, chili is always best served with cornbread. Duh. Don't you worry, I am bringing you that recipe tomorrow!
Now go make some chili and stay warm!
Crock Pot Turkey & Bean Chili
Ingredients
1.5 lb ground turkey
1 (15oz) can black beans, rinsed and drained
1 (15oz) can kidney beans, rinsed and drained
1 (15oz) can fire roasted diced tomatoes
4 cups low sodium chicken broth
1 medium onion, chopped
3 cloves garlic, minced
1 tbsp olive oil
1/4 tsp salt
1/2 tsp black pepper
1.5 tbsp chili powder
1 tbsp cumin
1/2 tsp paprika
Instructions
Heat a large skillet to medium-high heat, add the oil and turkey to the skillet, and season with salt. Stirring occasionally, brown the meat until it is almost cooked through, about 5 minutes. If you cook it too much, it will get too tough and chewy in the cock pot.
Add the turkey and all of the rest of the ingredients to the crock pot and stir until evenly combined. Cook on high for 3-4 hours, or on low for 6-8 hours.
Serve and enjoy!
https://www.thewheatlesskitchen.com/crock-pot-turkey-bean-chili/