Chicken & Brown Rice Soup
There are several reason you need to make this soup.
1. It is DE-licious.
2. It is warm, cozy and feels like a hug in a bowl.
3. It is cold and flu season, and chicken soup is the miracle food that will cure all ailments.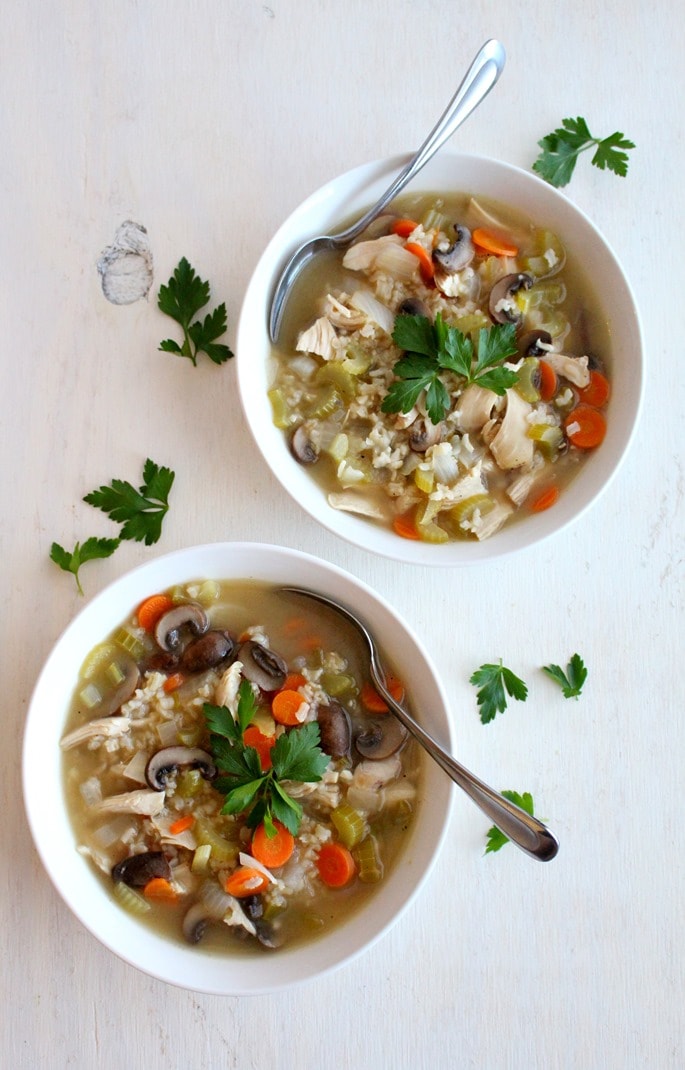 Okay, maybe not cure all, but it does wonders when you feel like you're getting sick. It's almost Christmas and no one wants to be sick during this time of year. AIN'T NOBODY GOT TIME FOR THAT. So eat this broth-filled soup, and stay away from all of those gross germs. (I'm looking at you, grocery store basket.)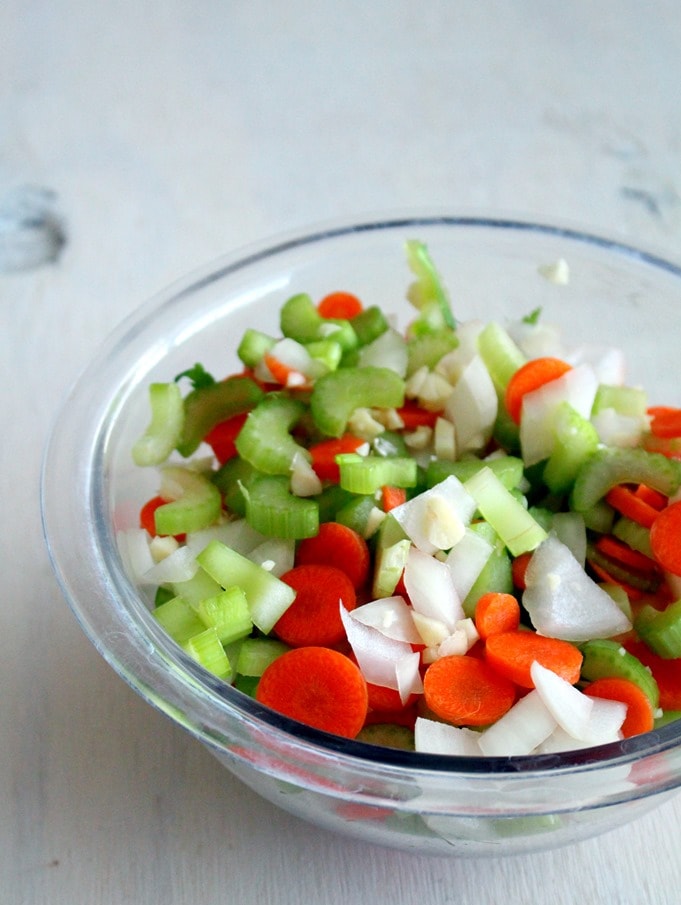 This warm bowl of goodness is full of nutritious things. We have protein from chicken, good carbs and fiber from brown rice, vitamins from vegetables, and all of those crazy health benefits from the broth. Have you heard about the health benefits from bone broth? It's kind of crazy how healthy this stuff is for you. Let me give you a rundown…
Benefits of bone broth:
1. It is great for the immune system because of the high concentration of minerals.
2. It is great for your bones because of the phosphorus, magnesium and calcium that it contains.
3. It is a rich source of collagen, so it will make your skin look great.
4. It keeps your joints healthy because it contains glucosamine and chondroitin.
5. It is great for your digestive system and has been known to work miracles for leaky guy syndrome.
And those are only a few of the benefits! I have read lots and lots of research backing up all of the amazing benefits of bone broth, and the fact that it can definitely help us all out during flu season. (You get the most benefits when you make it yourself. Store-bought broths are not as nutritious.)
Because again, I don't want to get sick. AIN'T NOBODY GOT TIME FOR THAT. You need to be well and ready to finish all of that Christmas shopping that I know you still need to do. I'm with you. And we're only 10 days away.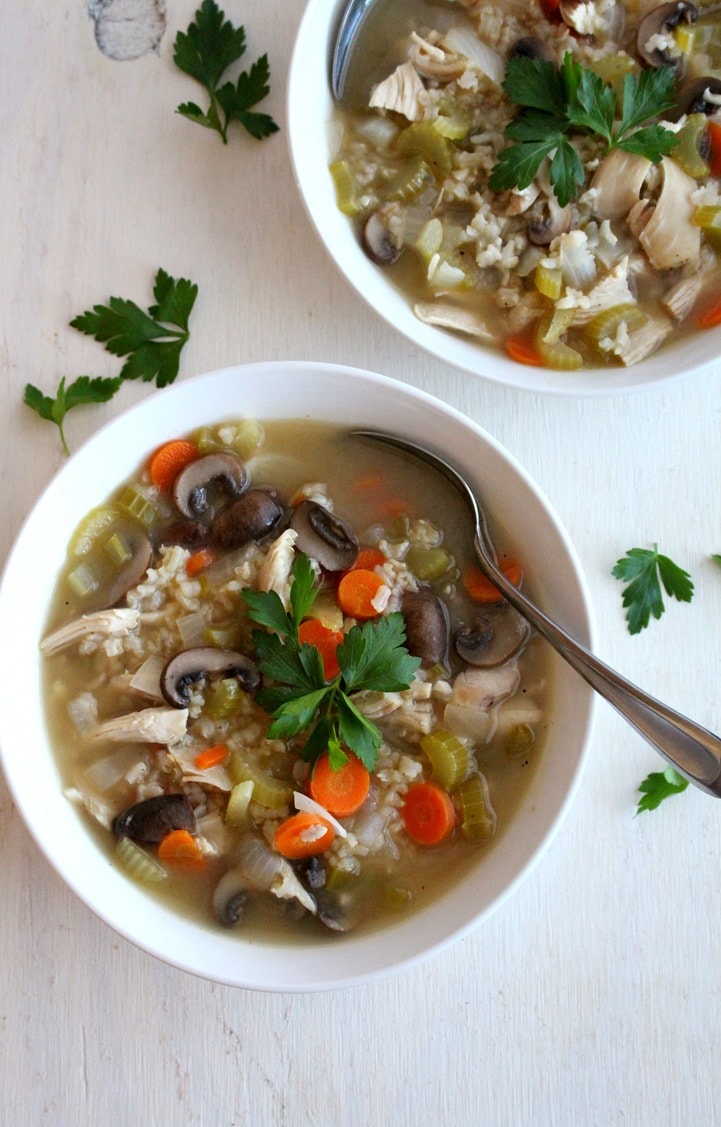 Oy. I'm off to eat soup, watch Christmas movies and NOT do my Christmas shopping. Yep, that's the responsible thing to do.
Chicken & Brown Rice Soup
Ingredients
2 cups cooked and shredded chicken
1 cup uncooked brown rice
3 carrots, chopped
3 stalks celery, chopped
1/2 large onion, chopped
8 oz cremini mushrooms, sliced
3-4 garlic cloves, diced
2 tbsp extra virgin olive oil
6 cups bone broth (or regular chicken broth)
pinch of salt and pepper to taste
1-2 tsp cumin
parsley for garnish
Instructions
Heat a large stock pot over medium-high heat. Add the olive oil, carrots, celery and onion. Season with a small pinch of salt and pepper and stir. Cook, stirring occasionally, for 3-4 minutes, until the onions start to become translucent.
Add the garlic and cook for another 1-2 minutes.
Add the rice and the broth and stir. Cover and bring to a low simmer, let simmer for 30 minutes.
Add the shredded chicken, mushrooms and cumin, stir. Cover, bring back to a low boil and let it simmer for another 10-15 minutes. Season with another pinch of salt and pepper if needed.
The soup is done when all of the rice is cooked.
Ladle into bowls and garnish with chopped parsley.
Notes
*To make your own bone broth --> 2 lbs bones from a healthy source (chicken, turkey, beef, etc.) 1 onion, quartered 2-3 carrots, rough chopped 2-3 stalks celery, rough chopped 2 tbsp apple cider vinegar optional add ins: salt, pepper, herbs to taste, garlic, parsley
1. Add all of the ingredients (except for the parsley if you are using it) to a large stock pot and cover with filtered water. Let it sit for about 30 minutes in cool water. 2. Bring the water to a boil, once it is at a boil, reduce the heat down to a simmer and let it simmer for at least 12 hours, preferably a full 24 hours to maximize flavor and nutrients. (During the last 30 minutes, add the parsley if desired.) 3. When it is done, strain the bones and vegetables from the liquid using a fine mesh strainer, let it cool, and store in the fridge for up to a week.
https://www.thewheatlesskitchen.com/chicken-brown-rice-soup/