Black Rice Stir-Fry with Bok Choy, Carrots & Chickpeas
This was a very unplanned successful recipe. If we can even call it a recipe. This was definitely one of those 'throw all the leftover veggies in the fridge into a skillet' kind of dish. Totally an accident, but such a tasty accident. It was so good that I just couldn't not share it with all of my invisible internet friends. Or at least that's what Kenny told me.
He's so smart.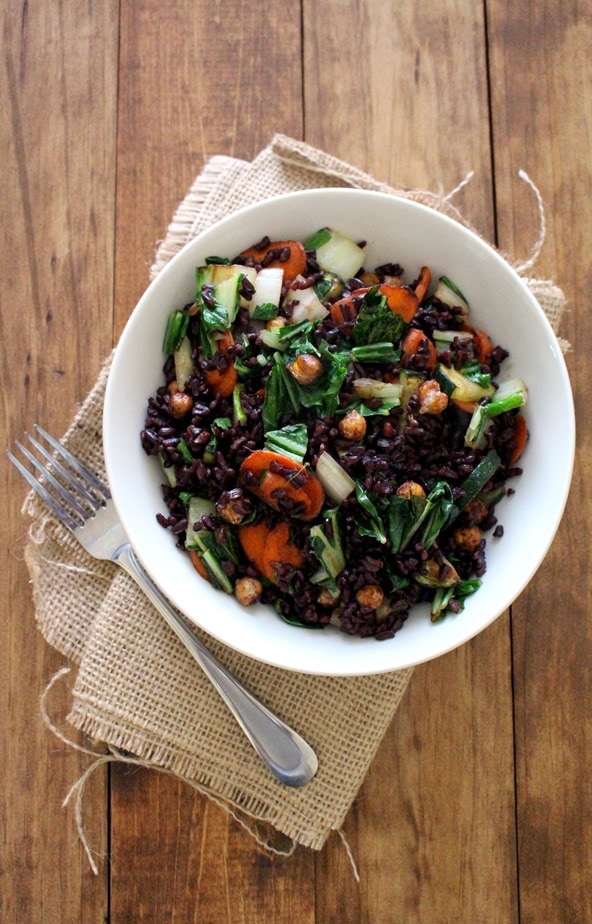 Like I said, I had a bunch of random leftover components just staring at me from the fridge, and they were threatening to go bad if I didn't eat them. I gave in to their threats. We had just gotten home from church, and my stomach was screaming at me, so I definitely wanted something fast and simple. Enter, stir-fry.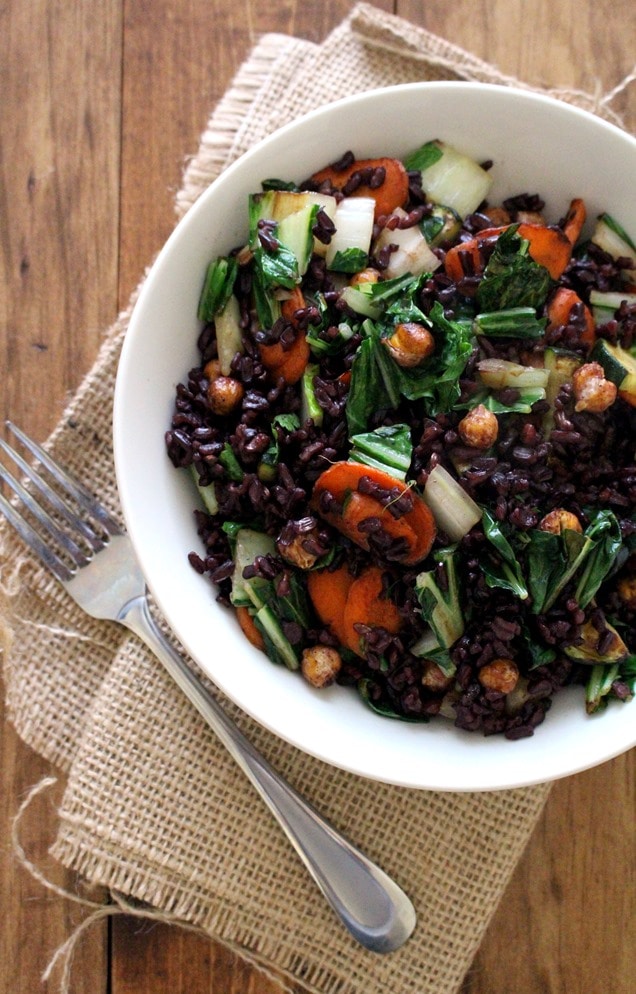 A stir-fry is one of my favorite kinds of non-recipe recipes. There is just something about warm veggies and grains doused in (GF) soy sauce that is so darn comforting to me. For this I used bok choy, carrots, zucchini, roasted chickpeas and black rice.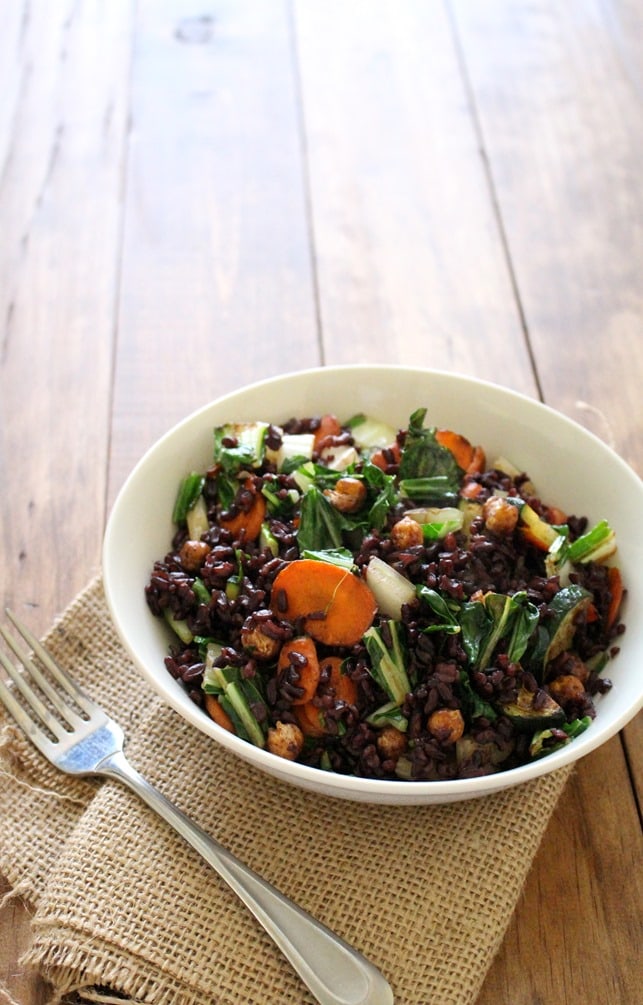 And ooooooh my Heavens, I was pleasantly surprised. You get a bunch of different textures, which I love. Crunchy from the carrots and chickpeas, and soft and chewy from the rice. And you are also getting an insane amount of nutrition from all of the veg and black rice, which has even more good-for-you nutrients than brown or white rice. Throw a little soy sauce on there, and you're good to go. Man, I've been on a real soy sauce kick lately.
I just love when dishes like this come together when you're least expecting it.
Black Rice Stir-Fry with Bok Choy, Carrots & Chickpeas
Ingredients
1 cup roasted chickpeas
1-1 1/2 cups cooked black rice
3 large bok choy leaves, chopped
1 large carrot, sliced
1 zucchini, sliced
pinch of black pepper
2-3 tbsp GF soy sauce
2 tbsp extra virgin olive oil
cilantro (optional garnish)
Instructions
Preheat a large skillet to medium-high heat. Add the oil and the carrots to the pan, cook the carrots for 2-3 minutes, stirring frequently.
When carrots are starting to brown, add the zucchini and bok choy. Cook for another 1-2 minutes, stirring frequently, until the bok choy wilts and the zucchini softens bit.
When the zucchini is slightly soft, add the rice and chickpeas.
Cook for another 2 minutes, stirring frequently. You are just cooking the rice and chickpeas for long enough to warm them.
Season with pepper, add the soy sauce, and stir to combine.
Divide between two bowls, and enjoy.
https://www.thewheatlesskitchen.com/black-rice-stir-fry-bok-choy-carrots-chickpeas/