Black Rice Salad with Strawberries & Almonds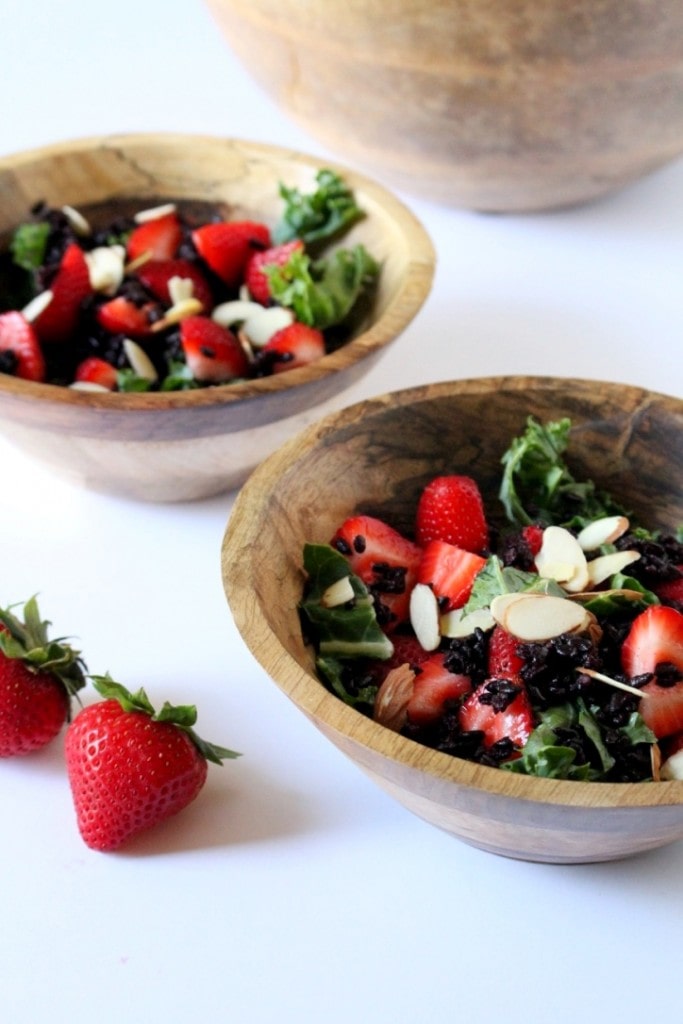 I know, two strawberry recipes in a row. I'm not even sorry. I can't get enough strawberries right now, I'm eating them on everything. And peaches, well, just give me ALL the summer fruits!
This is a perfect balanced salad for summertime. You get to include all the juicy and sweet strawberries, nutrient dense greens, and a superfood in the form of black rice. You have all you need in one little bowl. Or one BIG bowl if you're like me.
I love mixing sweet and savory flavors, so this salad is my jam right now. I love how the sweetness of the fruit pairs with the earthy kale and rice. And then to top it off, I lightly tossed the whole thing in a simple balsamic dressing. Because, DUH. Strawberries + balsamic = heaven in your mouth.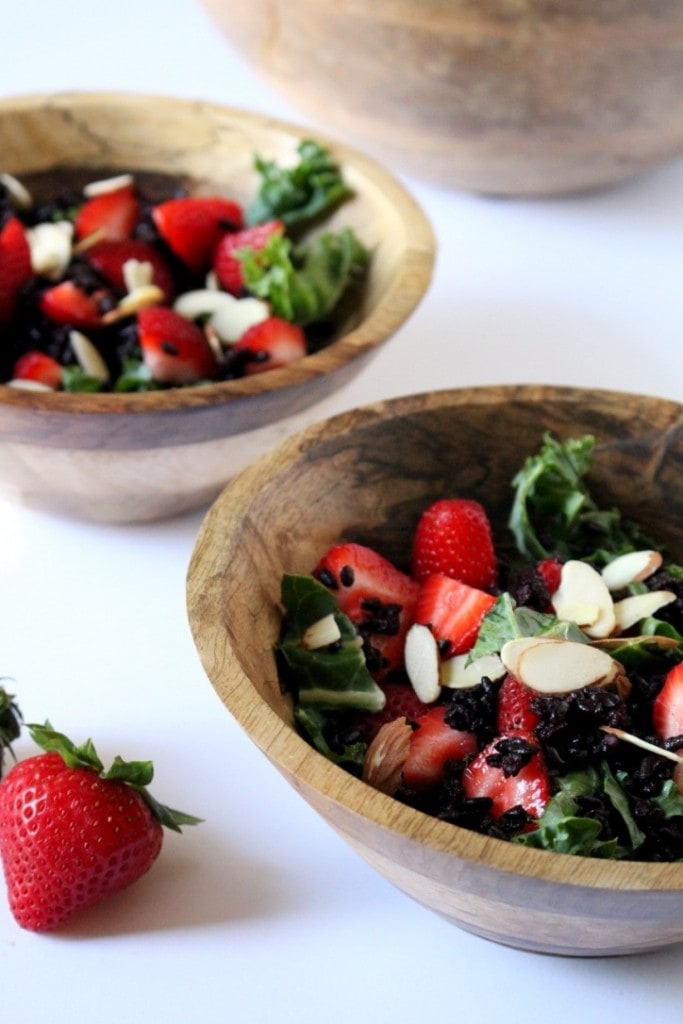 Add some crunchy almonds and you are golden. Now excuse me while I go eat all the fruity things.
If you guys make this, I want to see! Tag me on Instagram and hashtag #thewheatlesskitchen
Black Rice Salad with Strawberries & Almonds
Ingredients
1/2 cup uncooked black rice
1 cup water
1 1/2 cups strawberries, halved or quartered
1 cup chopped kale
1/3 cup sliced almonds
1 tbsp balsamic vinegar
1-2 tbsp extra virgin olive oil
small pinch of salt
Instructions
In a saucepan, combine the rice and water, season with a small pinch of salt. Cover and bring to a boil. Once boiling, turn the heat down to low and let simmer for about 40 minutes, until all the water is absorbed.
When the rice is done cooking, transfer it to a different container to let it cool completely. I set mine in the fridge for a couple of hours so it could chill quicker.
Once the rice is completely cooled off, combine the rice, strawberries, kale and almonds in a large serving bowl.
In a small bowl, whisk together the vinegar and oil until well combined. Pour over the salad and gently toss until everything is lightly coated.
Serve and enjoy!
https://www.thewheatlesskitchen.com/black-rice-salad-with-strawberries-almonds/